Become an Effective Business Communicator with a Reflective Mindset Shifts
Your mindset has a key impact on every sphere of your life to become and effective business communicator. Your beliefs and thoughts define you and hence, are fundamental to the success and failures of life. Confidence is one such cognitive behavior that is less of a skill and more of state of mind.
You possess enough business knowledge, but when it comes to business interaction, you start feeling insecure. So, to accomplish that efficiency in communicative Business English, you decide to carry out a series of activities. Unfortunately, it didn't turn out well due to several reasons. Here's a glance of those 'What's and 'Why's.
What: Signing up for a business English classroom program
Why: Too much time commitment when you already have a busy schedule. Difficult to focus on that face to face learning sessions when you're already mentally exhausted post working hours.
What: Joining an online business English learning course
Why: Lack of dedication. Even though you enrolled yourself, you never took it seriously.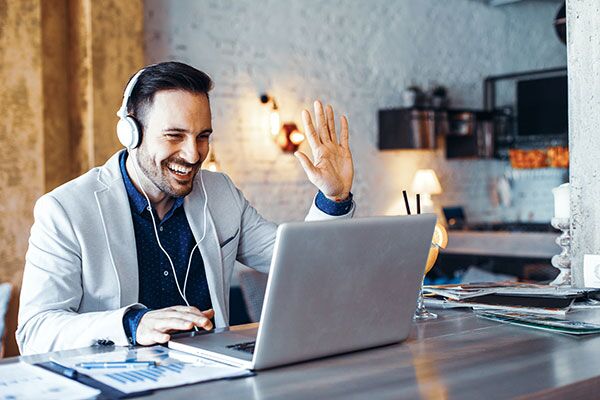 Why: Again, lack of dedication. You just wanted to compensate the above failures with this. However, truth be told, even this didn't add anything extra to your English vocabulary and grammar.
Therefore, the result is:
You are still conscious and insecure
You struggle to find out the right word
Make common grammatical errors
Due to lack of confidence you can't speak clear phrases
All these make you even more nervous in that business meeting
Net outcome- You're disappointed and your professional growth is hindered. You get hopeless and accept the fact that you can never achieve that business English fluency.
Under such scenario, two significant mindset changes can make you an effective business communicator in English. Here's a look at those two approaches to boost up your confidence.
Pause and reflect
If you wish to have a fluent business interaction, don't just rely on your grammar and vocabulary, rather focus on understanding and listening. It's not important to polish your vocabulary but to organize your thoughts. Take a moment and reflect on your surroundings when you are at work. Try to understand the reason of not able to establish an effective communication. Is it just because of the English or an unframed mindset that led to breakdown in English?
To capture that attention of your audience in any business meeting, try listening, observing and adapting to their version of linguistic preferences. Ask yourself what series of changes you should make in your business spoken English to establish a smoother business communication. Don't just assume that it's your lack of English knowledge, rather learn from your previous mistakes and use it as a weapon to improve. Apply a simple method of Observe, Reflect, Adapt and Execute. Neither it's time consuming or mind blasting.
Build up a strategy:
Focus on strategic implementation of time; remember it's not about how much time you invest, it's about how effectively you invest. Here's a brief picture of two such strategic programs:
12-day reflection habit program: This is based on the process of observing, reflecting, adapting and applying over a period of 12-days. Continue to practise this under any business scenario (business meeting or presentation, conference) and you will be able to steer your own progress. The best part is you don't need to devote any extra time of your day. However, you still need to stay focus if you want the desired learning outcome. This reflection habit will add value to your existing skills when you apply it in a repetitive manner for a series of experiences. Try to follow a simple cycle of ExperienceàReflectionà Action to maximize your reflective learnings.
90-minute one to one coaching session: This is another effective way to improvise your business English skills. In this intensive training, you maximize your attention on the issue that is restricting you to establish an effective business communication. Aim is not just to learn catchy business words or polish your fluency, rather to have a reflective attitude while you attend a training session. Build self-awareness by reflecting on your strength & weakness, values and goals.
Sign up with Express English, a reflective learning platform for business professionals. Our business English coaching sessions offers a time-efficient learning to create and achieve goals accelerating your professional growth.
Related Posts: