Unfreeze Your English to Have a Small Talk
While you're at your work place, communication with colleagues is mostly restricted to business talks and knowledge transfer. However, because of your social nature, you also intend to connect with them personally. You feel the same during your business meetings across the globe. You meet new international clients, colleagues and want to share with them about your interests, cultures and hobbies. But social communication is quite diverse. Hence, you start feeling conscious and get the fear of getting judged for your spoken English. Moreover, an extra bit of anxiety builds up when you speak with any native English speaker. You start worrying about your grammar and accent. Consequently, even though you have the strong desire to speak English, you stay silent. Therefore, you slowly get isolated from the conversation and fail to show your 'personal' image beyond that professional one. This in turn leads to lack of bonding with your peers at your work place and make you feel incomplete.
So, you decide to train yourself on spoken English. You start learning English online by engaging yourself in YouTube videos, reading blogs and watching English documentaries. You try to work on your fluency and vocabulary, and you get the impression that next day you might be able to initiate a casual conversation with your colleague in English with confidence.
However, it doesn't live up to your expectations. You still stumble over your words while striving hard for the correct word and ultimately get disappointed. So, what's the issue then?
The problem is you stress so much on your vocabulary that you fail to express your dynamic personality. Remember to communicate effectively, one must follow a holistic approach, that is, you need to connect through your gesture, your smile, your life experiences and passions and not just words. While you can utilize all these efficiently when communicating in your native tongue, you fail to do when you speak in English. When you are already at your comfort zone on a linguistic level, you don't hesitate to put forward that warm handshake, or give that winning smile and a welcoming look. You automatically connect to that person with all these non-verbal body languages. But, once the language shifts from your mother tongue to English, you rely on one ingredient – your words; without which, you are a paralyzed robot. Gradually, your radiant personality gets eclipsed.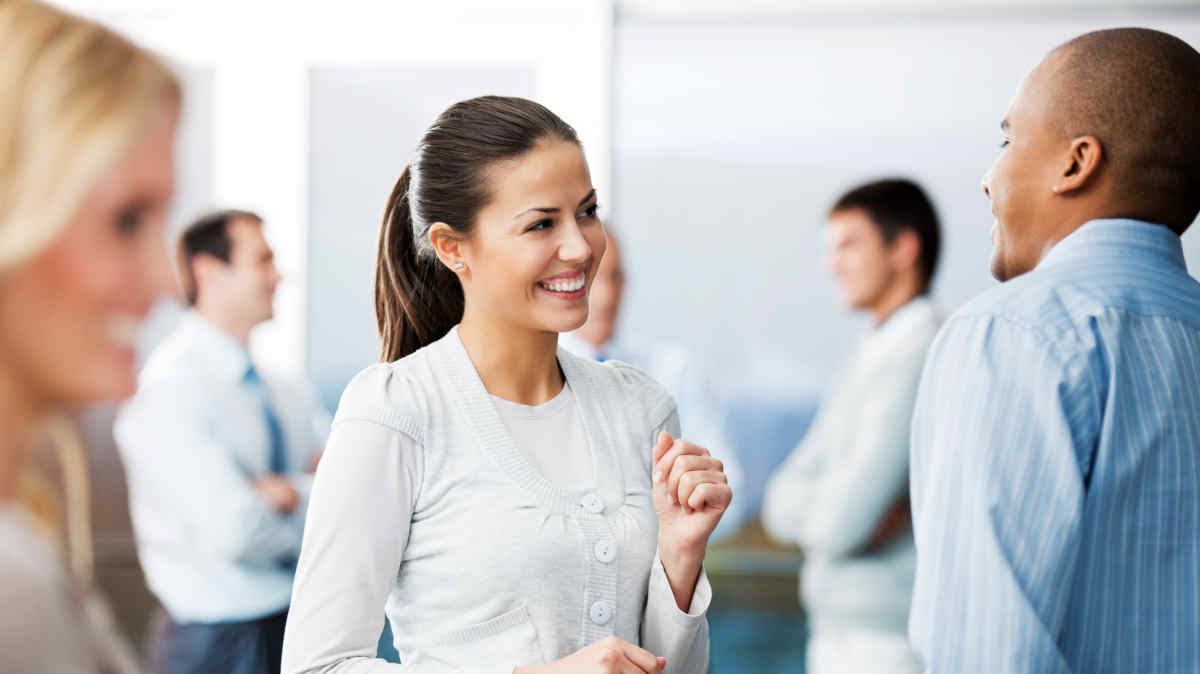 Nevertheless, there are still two effective reboot buttons that will revive your connection with your colleague and bring back your gleaming personality.
Turn off your English brain and reactivate your thoughts in your first language: Consider reflecting on your way of communication if it was your first language. Focus on 7 reflection prompts like "What is the first thing you wish to know about that person and why?", How do you encourage them to have a conversation with you? What intrinsic personality traits you possess that you can exhibit? How do you motivate them to share something about themselves? What you can do to show them that you're interested to know more of them? How well should you listen to them and let them express? And lastly, how do you make them feel, that is, the impression they have after they have that interaction with you.
Now make a self-analysis and assess how much portion of this interaction relies on your words? Did you use any complex vocabulary?
Switch on back your English brain: Now try to phrase all of these 7 prompts in English. Did you run out of words? Did you use any difficult phrase to show your care for the person you're interacting with? Ask yourself if you have all the words that will ensure the person that you listened to him/her. Certainly, you have them! Now go and start off that conversation with your colleague and observe carefully how it goes.
Sign up with our English for Life courses at Express English and learn how to comfortably express yourself in social gatherings post that business meeting. Get your body language and spoken English polished combinedly via one to one training from your English tutors. Blend your business English and social English and leave back a mark of your sparkling personality. Lastly, remember establishing human connections is based on less speaking (fewer words) and more listening. Words will follow once you trust your instincts.
Related Posts: