Strategies to Be Confident in Interview in English
Confidence is the key to crack any job interview. However, facing an interview in another language build up nervousness and puts you under pressure. Now that, English is the preferred mode of any business communication, quality of spoken English is fundamental to excel in your career path, especially if you plan to work at a multinational company. Therefore, learn to keep a control on your anxiety if you wish to ace your interview in English.
Here are the four strategies to overcome that fear of getting judged for your English and gain confidence during your job interview in English: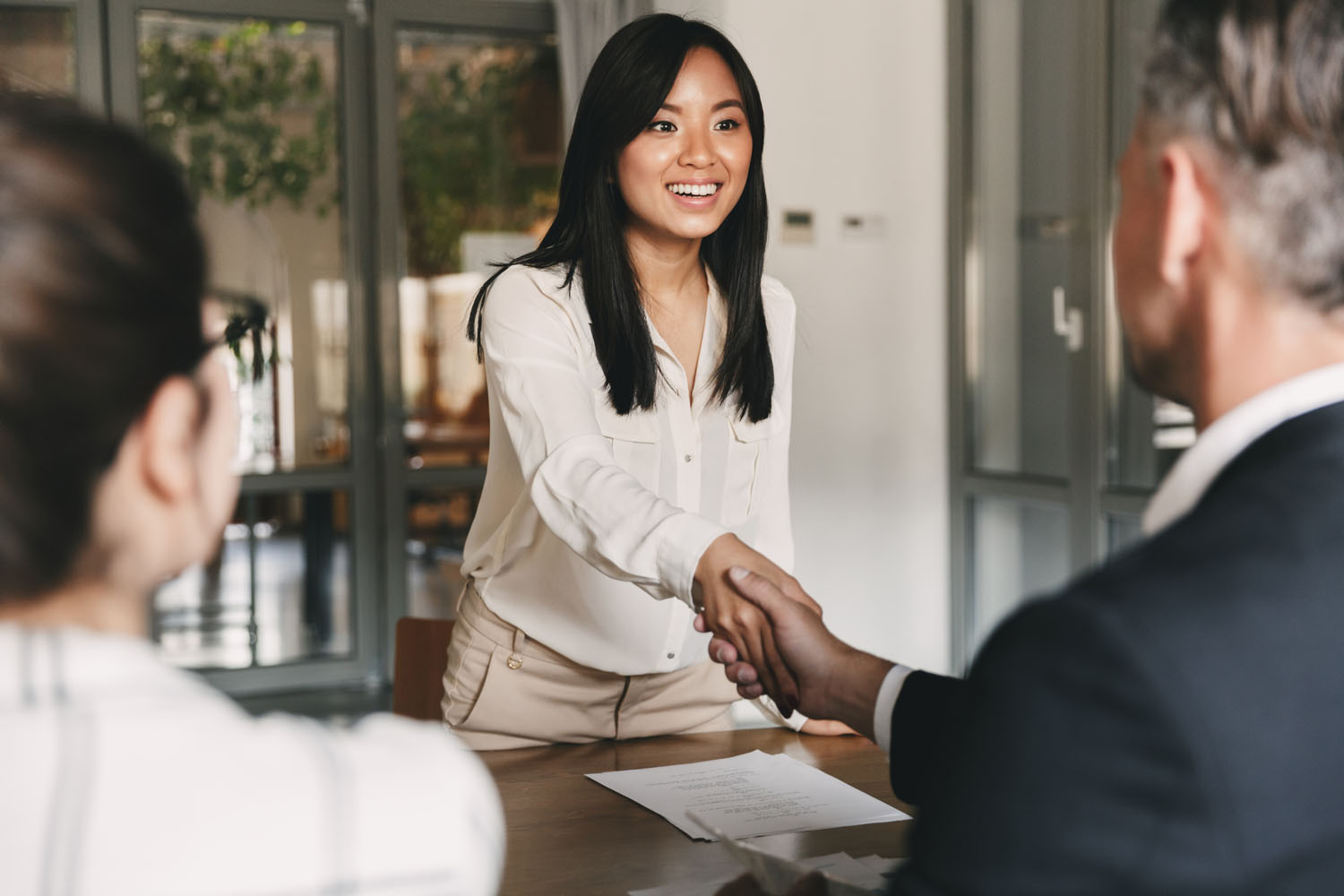 1.

     
Focus on connecting with interviewers rather than perfect English
Boost your confidence by establishing a good rapport with the interviewers. Remember they are hiring you for your professional skills and expertise, not for your knowledge on English. No matter what linguistic challenge you face, try to maintain a positive mindset. This will directly impact your communication skills. Your main purpose should be to convince the interviewer that you're the perfect fit for the job. In addition to explaining your strengths, also describe them about your weakness. This will reveal how much honest and trust worthy you are! Make them aware about your previous job experiences if any. Come well prepared with the question: "Why should we hire you?"
2.

     
Prior research
It is of utmost importance to familiarize yourself with the industry and the job profile. This will help you to get an idea about the kind of questions you might expect during the interview. Understand the job descriptions carefully and keep yourself updated with the requirements. Make sure you're aware of the skills and expertise that your interviewer is expecting. Therefore, before submitting your resume, ensure to highlight those specific items. Visit the company website to have an overall idea about the dynamics of the company and be ready for the question "Why do you want to work here?"
3.

     
Build up the confidence
If you want others to believe in you, you must believe yourself at the first place. Practicing breath techniques is one of the effective ways get away with anxiety and elevate your confidence level. Explain your interviewers about your level of competency, communicate well about your principles. Make them aware about your personal habits by keeping a good posture and dressing well. If you have a habit of fidgeting, try to work on that well before you appear in the interview. There are several proven techniques to boost up your confidence. One such is C.A.R (circumstances, actions, and results). This will help you to 'sell yourself' in the interview without feeling uncomfortable about it. Let's have a glance of how it works.
Interviewer: Tell me about a time when you failed to make your customer happy?
In such scenario you can use the C.A.R technique to detail your real story.
·         Describe the circumstances, that is the mistake that you had made that made your customer upset. Explain the situation in a 'What', 'How' and 'Why' manner.
·         Next, share the actions that you had implemented to resolve the situation. Maybe you had an interaction with the customers and tried to learn from them what went wrong, made a background research if such circumstances had occurred in the past and strived to find an innovative solution.
·         And finally highlight the results that is the net outcome. Did it make the customer satisfied? Was he still willing to purchase your products?
When you share about your actions, it automatically highlights your qualifications, skills, expertise and values. So, it doesn't seem that you're bragging about yourself because you're narrating everything with proof and facts based on a real story.
4.

     
Prepare and practice
Now that you know the bare essentials, it's time to practice achieving the perfection. Only knowing the expected questions won't help you. You need to focus on your spoken English.  One way is to arrange a mock interview and practice by speaking loudly the answers. Record this session, then listen and analyze it. Work on the areas that you think needs an improvisation. Then rehearse again in front of the mirror. Each time you do that, your responses will improve. The more your practice, the easier it is to remember what you want to speak in the interview. 
It might happen that even though you know enough English, you don't have that confidence of speaking in an interview. To get the right vocabulary at the right time is the key to success during the interview. So, if you wish to excel in your next job interview in English, get yourself trained from our professional business coaches at Express English. We totally understand that with your packed schedule you don't have the luxury to travel to coaching centers. With Express English, we bring you the opportunity of online one to one learning from our business experts. Sign up today with our English for Work courses and fetch that dream job you have been waiting for!
Related Posts: